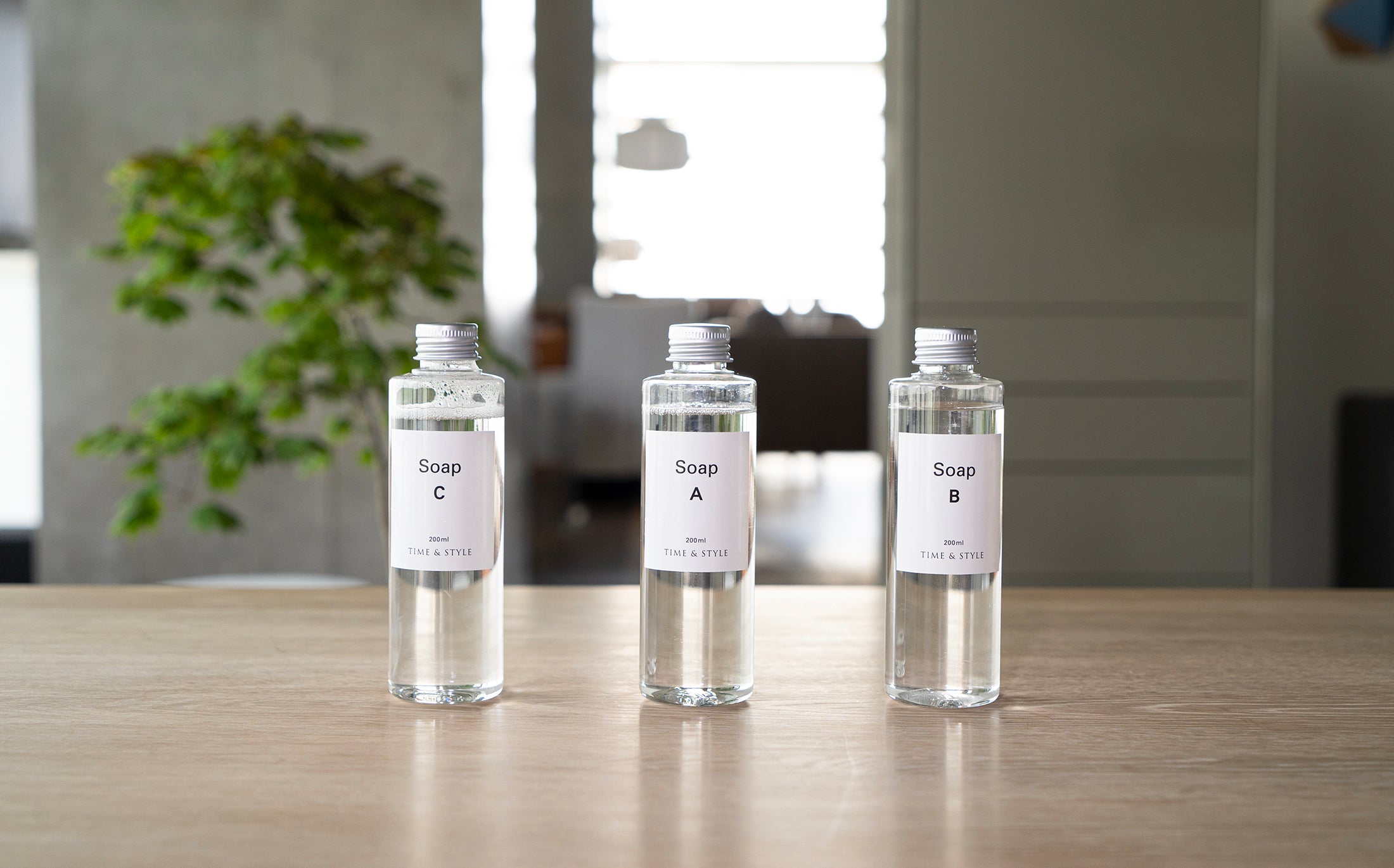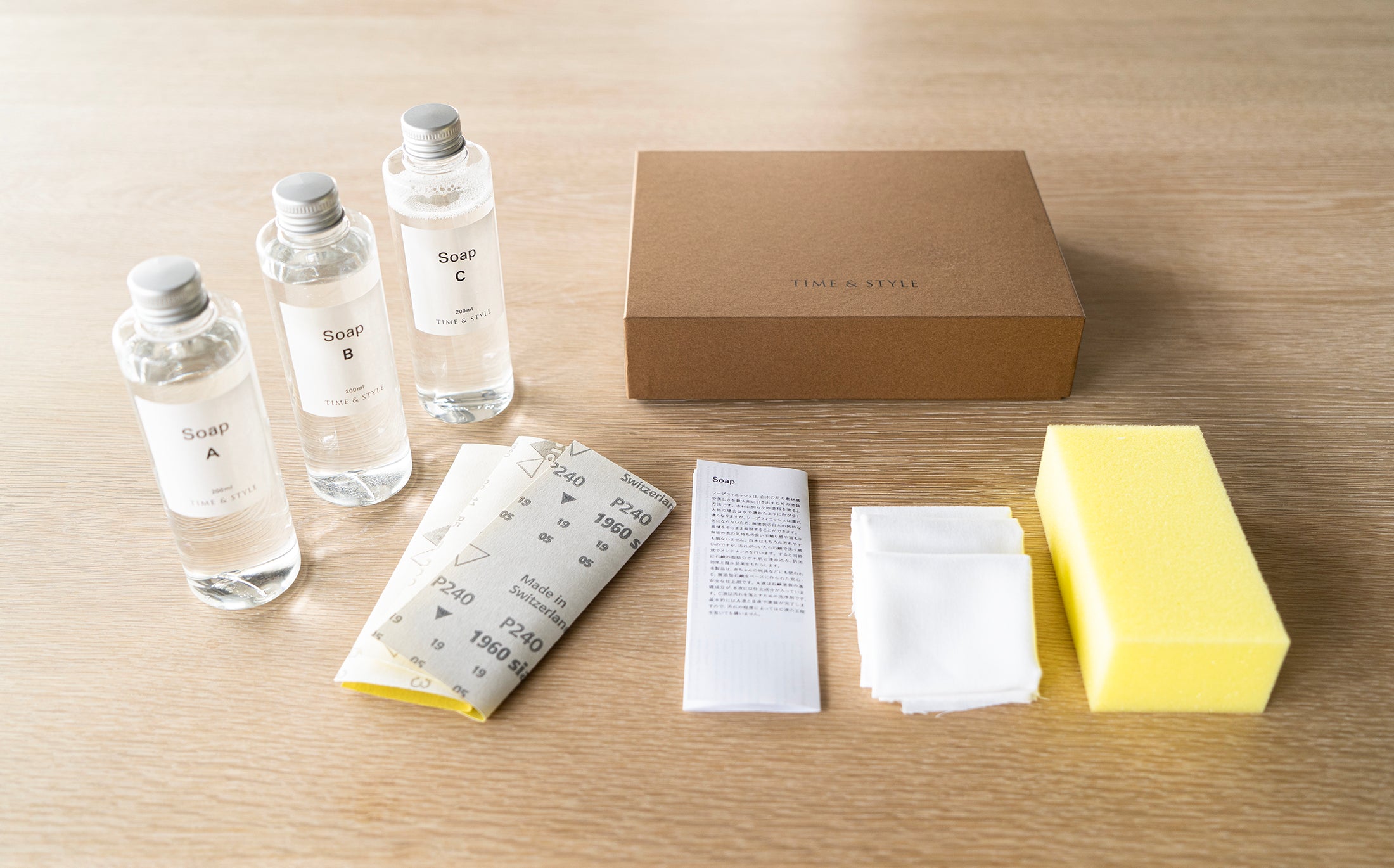 SOAP FINISH KIT
SKU: SOAPFINISHKIT
Sale price

€38EUR
Regular price
(/)
---
A soap finish, whose main component is soap, is a secure and safe finish made from natural materials. Unlike oil and wax finishes, this material prevents wood materials from turning a wet color and maintains the original texture. It has a comfortable and dry feel. As the fatty ingredient of soap penetrates into the wood surfaces to facilitate the removal of stains, and no harmful chemicals that promote drying are contained at all, this safe finish material can be used in homes with children.
* This finish does not prevent breakage or warpage of wood materials nor the adhesion of dirt or fingermarks.
---
SPECIFICATIONS
Material: WENNEX Soap Finish
Volume: 200ml each
Kit Contents:
WENNEX Soap Finish Liquids (A, B, and C)

 , a sponge, cloth*3, sandpaper*3

---
Note 1: The colors of materials may vary slightly depending on your device's screen.
Note 2: Please check here the list of the countries that we are not selling at this moment on this e-commerce site.
---
How to use

1. Use liquid C for the surfaces with dirt. Wash off the dirt using a sponge into which a sufficient amount of liquid C is absorbed. Sponge liquid C remaining on the surfaces.
2. Sand the surfaces with sandpaper (#180) in advance to prepare the surfaces. Remove sanding dust with a clean waste cloth.
3. Apply liquid A to the surfaces with a sponge or brush. Liquid A contains detergent components that are the bases for the soap coating. As puddles of the liquid generate stains, wipe off any excess liquid carefully with a waste cloth. After letting the liquid dry for approximately two hours, remove the fuzz from the surfaces with sandpaper (#400) and wipe off the sanding dust completely.
4. Finally, apply liquids A and B in the same manner. Liquid B contains oil components for the finish. As puddles of the liquids generate stains, wipe off any excess liquids carefully with a waste cloth. After letting them dry for approximately two hours, remove the fuzz from the surfaces with sandpaper (#1000) and wipe off the sanding dust completely.

If the surfaces are maintained partially, the maintained portions turn white to cause apparent color unevenness. Perform maintenance of the entire surfaces or note in advance that color unevenness may occur as a result of partial maintenance.
Handling

- This finish cannot prevent adhesion of dirt completely. If dirt and fingerprints adhere to the surfaces, perform maintenance (Recommendation: Use liquid C of this).
- As this finish is less water repelling than other finishes, wiping the surfaces with a damp cloth may make them fuzzy or rough. In such a case, sand them with sandpaper and apply liquids A and B in turn. Basically, wiping with a dry cloth rather than a damp cloth is recommended.
- If possible, do not set up furniture in places near heat-radiating devices and air-conditioner vents, as well as places exposed to direct sunlight (ultraviolet light), which could cause breakage and warpage of wood materials.
SHIPPING DUTIES AND TIME - In-stock products

*The price that is shown is the price excluding VAT. Therefore, you will have to pay VAT and import duty later. The tax amount, VAT rate, and duty rate vary from about 5% to 20%, depending on the country. 

 

Payment of duties

Import VAT, and other taxes associated with the importation of the purchased product will be communicated to you by the courier at customs clearance via email or on your registered telephone number. Depending on where you live, you may have to pay at the time of delivery to your address.

 

Estimated delivery time

All products are order-made and carefully processed, assembled, and finished by our craftsmen in Japan.

Regarding the tableware and small products, we ship the goods from japan within 7 days if we have stocks. If there is no available stock, we will accordingly inform you the lead time of the production.

For large quantities we will contact you.

For any further information, please contact us.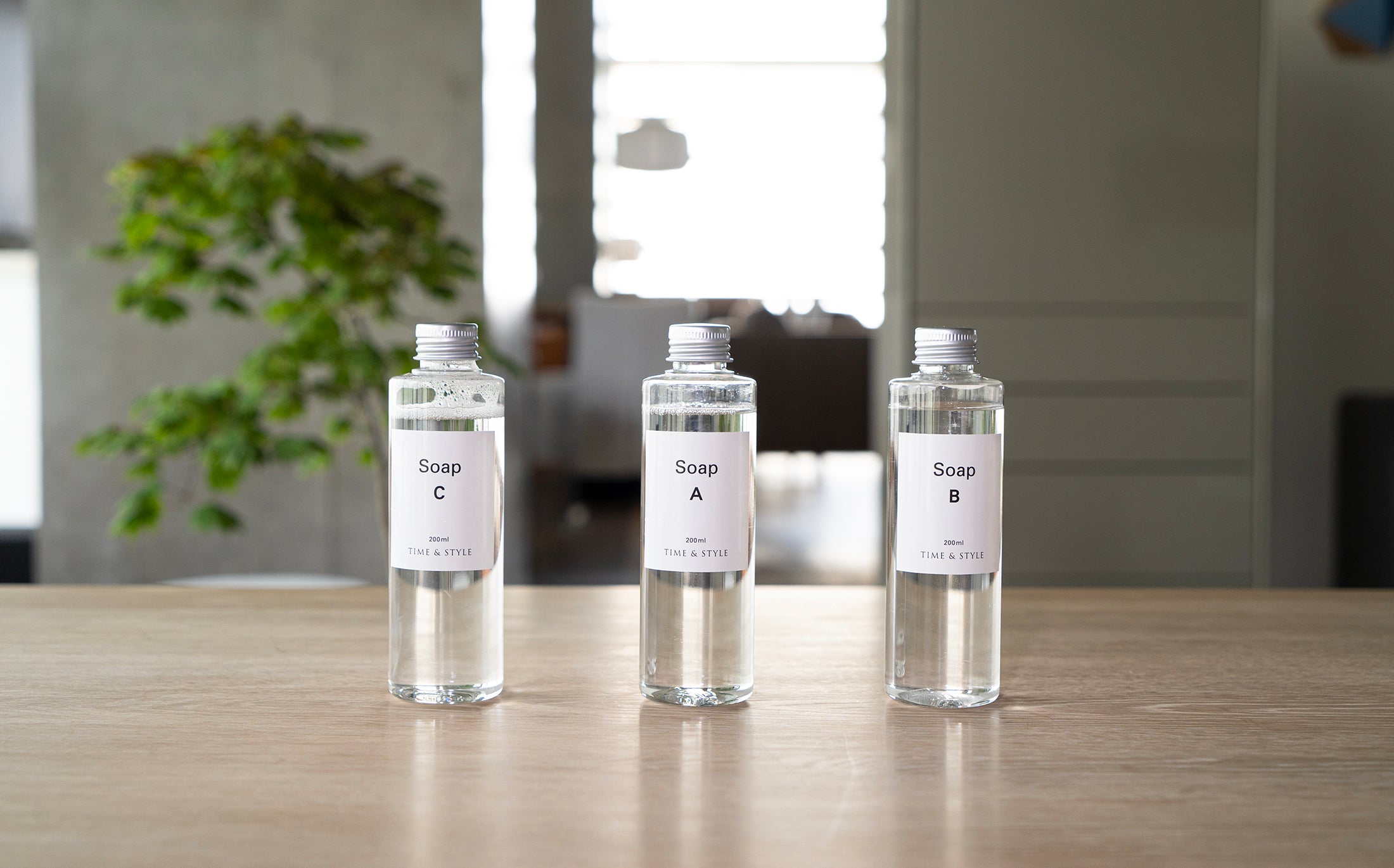 SOAP FINISH KIT
Sale price

€38EUR
Regular price
Choose options