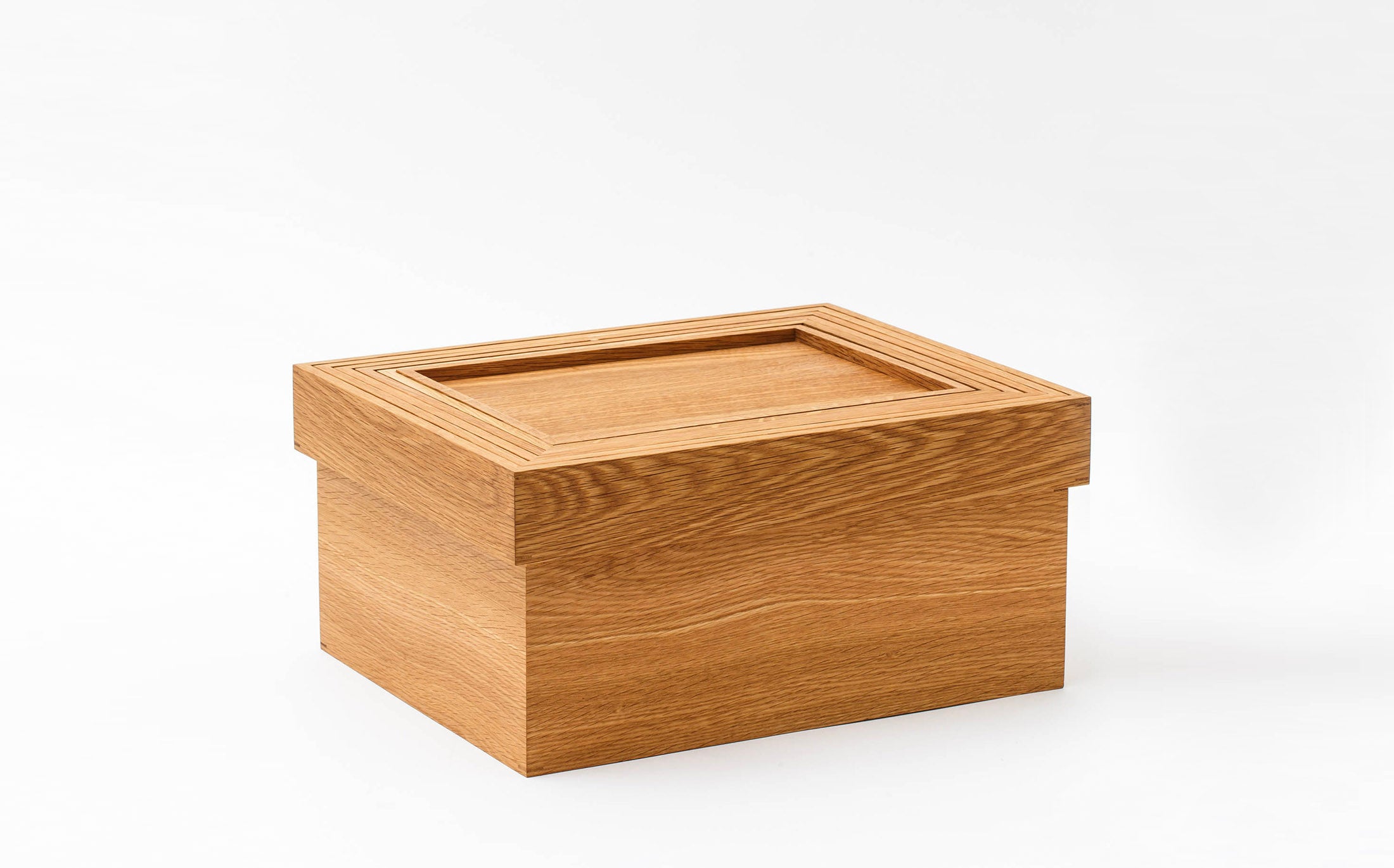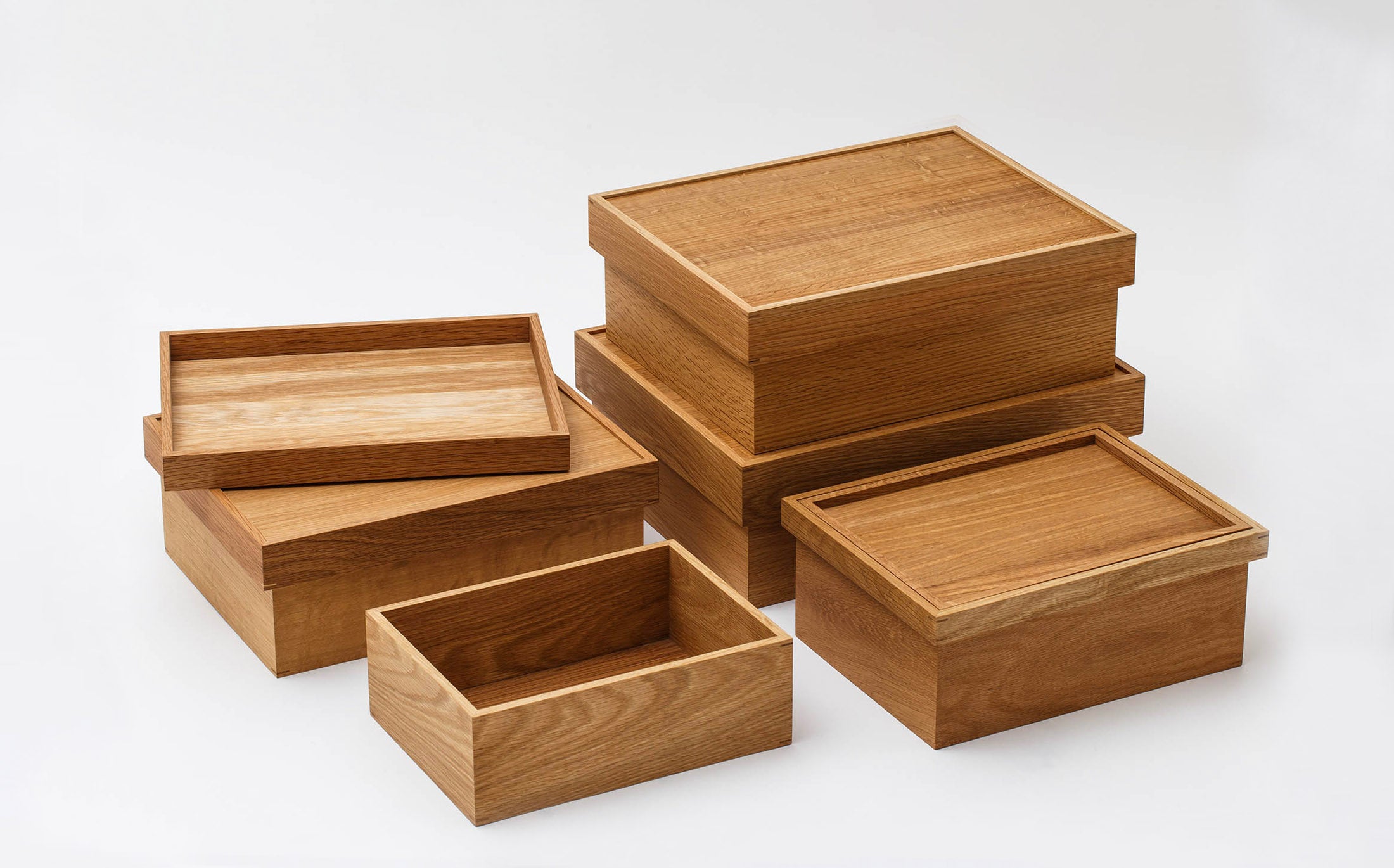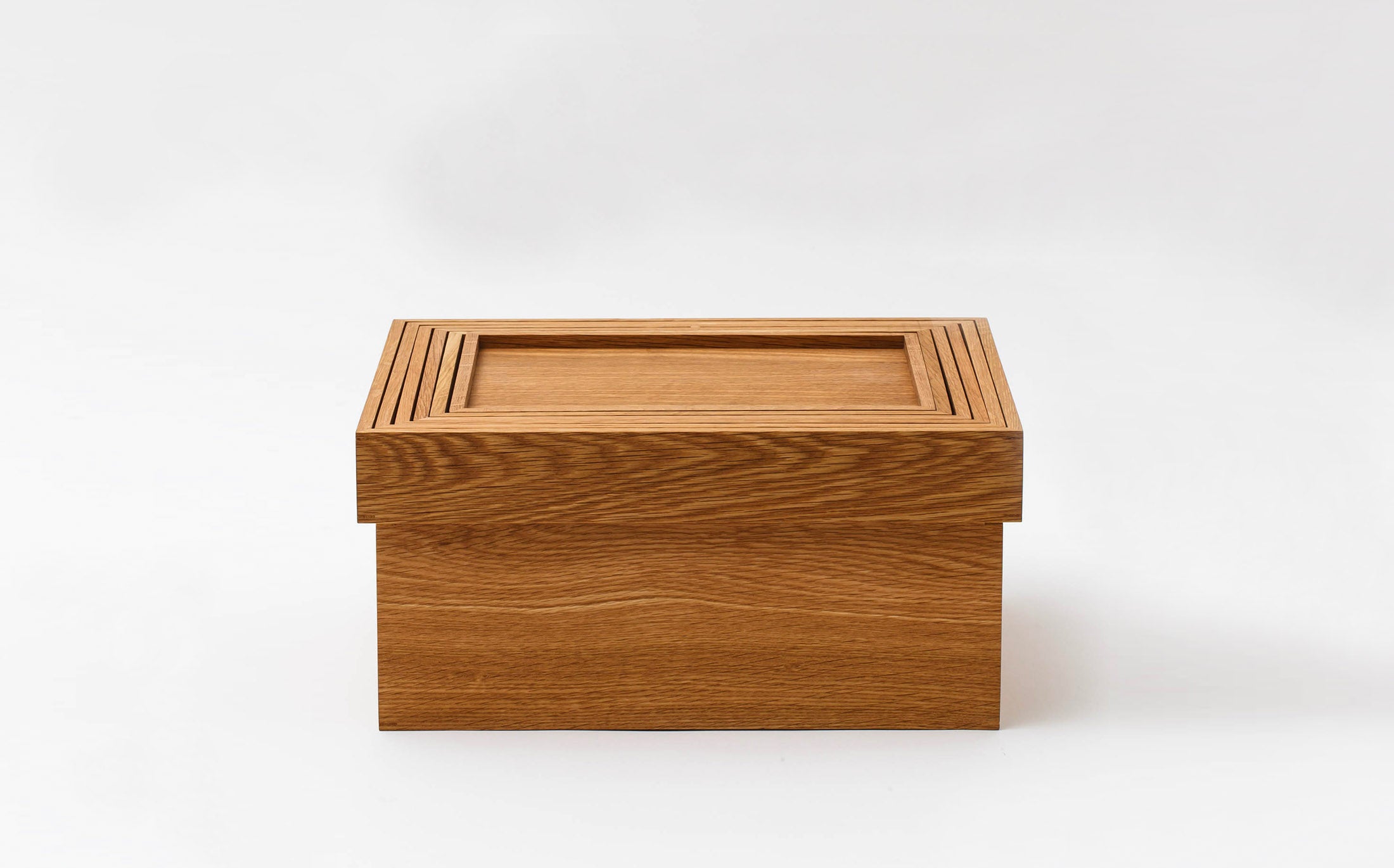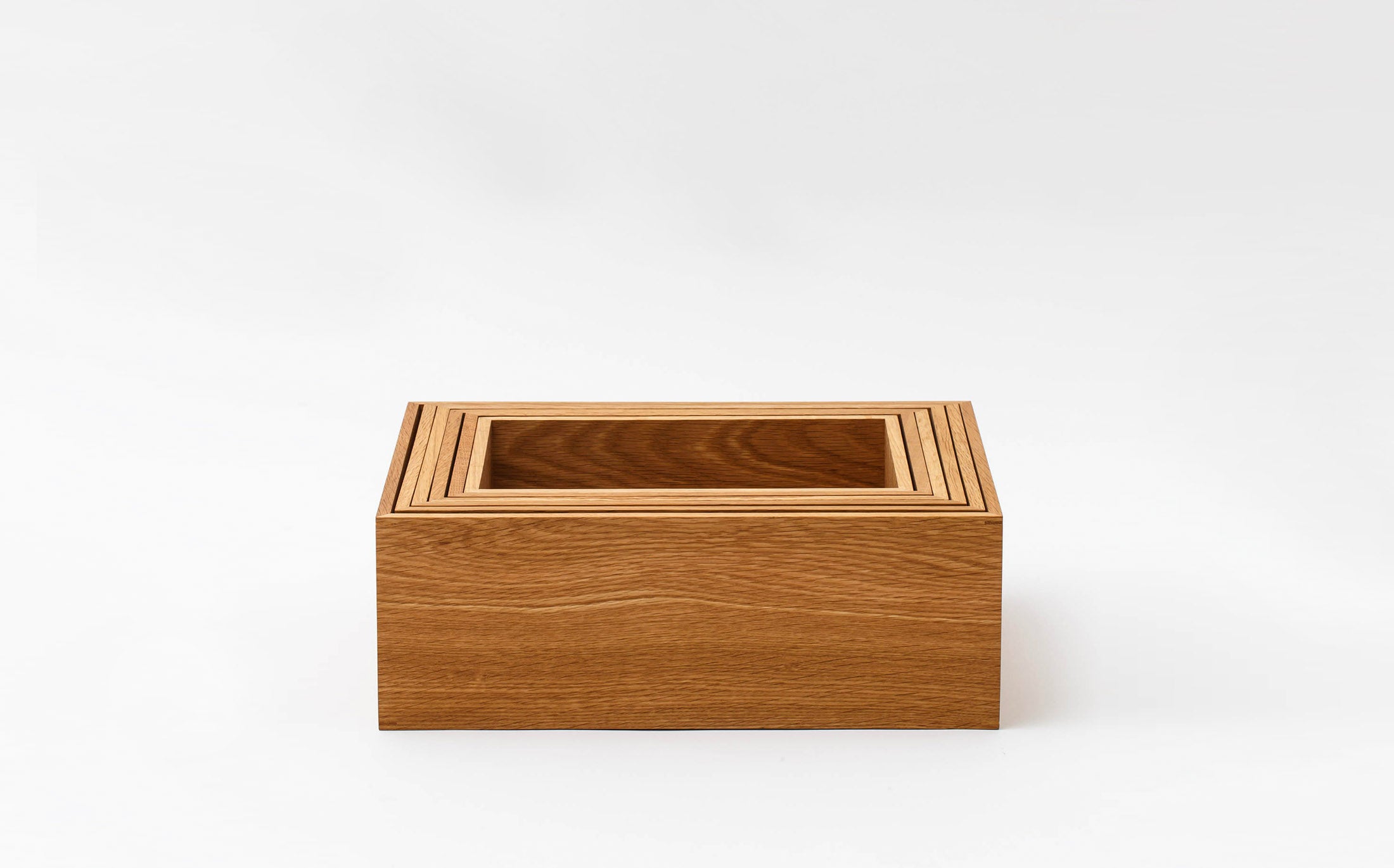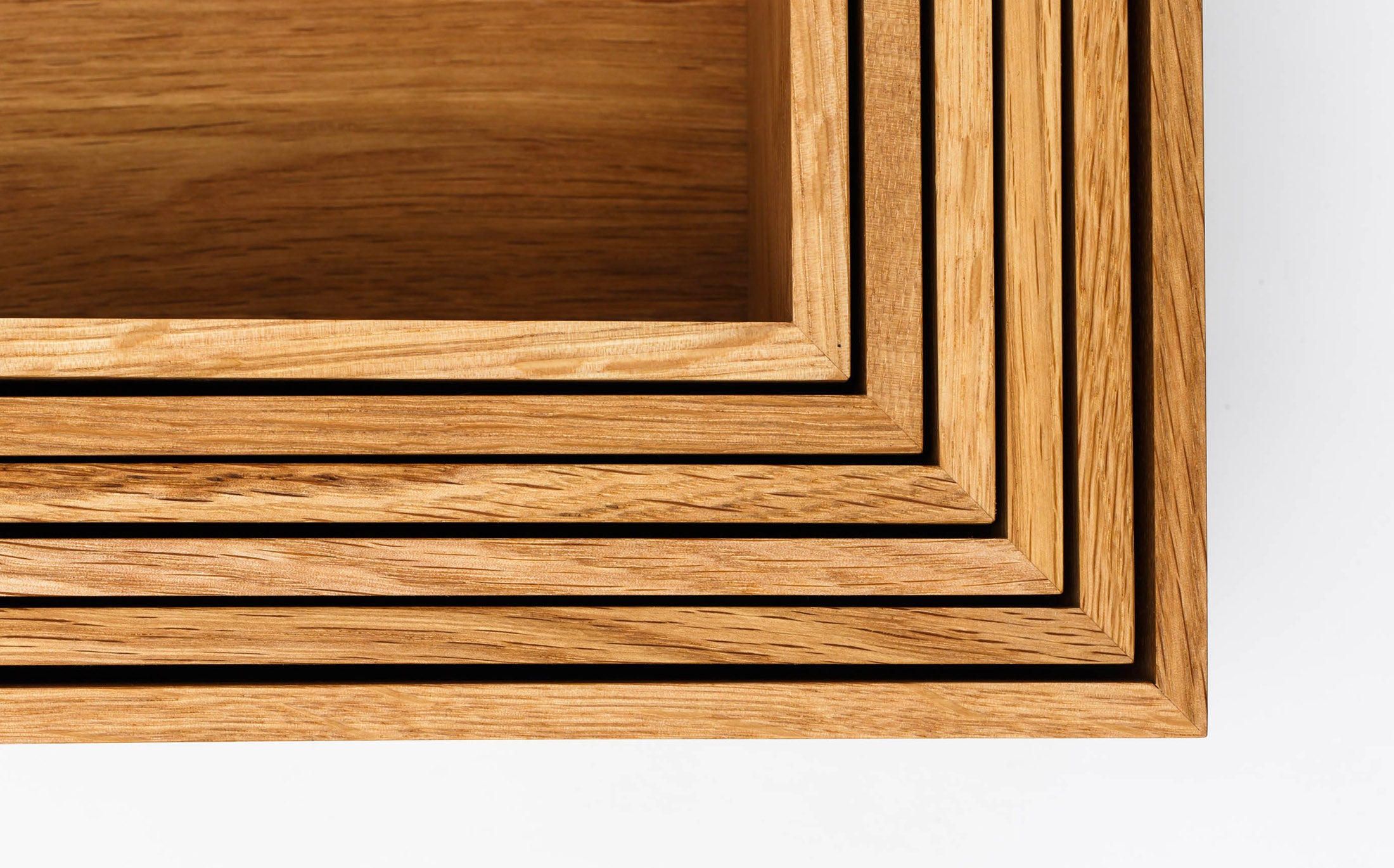 Ireko-bako - White Oak - Nest Box
SKU: TSKM00103 W333 D268 H351
Sale price

¥124,300
Regular price
(/)
---
This is a set of 6 boxes and 6 trays that all fit inside each other. The trays can be used as the lids of the boxes, and the lidded boxes can store many things and are very versatile. This product comes in walnut, oak and Japanese cypress.
The Ireko-bako is based on a traditional household item of Japan called kiridame. Originally, the kiridame was a wooden box coated with a thin layer of lacquer, used to store chopped vegetables. It was also used to store ingredients temporarily in the kitchen or to store grain, and as a serving dish whenever people gathered at the house to dine. In contrast to the elegant jubako (a traditional Japanese stacking box lacquered in gold), the kiridame was a casual, functional item that was integral to people's lives. The kiridame varied in size and depth. People used different sizes for different purposes and stacked them so that they fit inside each other. It is a sensible item with a very beautiful Japanese look and feel.
---
SPECIFICATIONS
Material: White Oak
Finish: Beeswax
Size: Width 333mm Depth 268mm Height 351mm

---
Please understand that the stock level might not be updated on our website. Sometimes out-of-stock might happen after you complete the order. In this case, we will refund for the order.
---
Note 1: The colors of materials may vary slightly depending on your device's screen.
Note 2: Please check here the list of the countries that we are not selling at this moment on this e-commerce site.
---
HANDLING PRECAUTIONS

- Products made of natural wood may bend, twist, crack, or otherwise change shape from the effects of the seasons or of the surrounding environment. One should avoid using such products in extremely dry places, for example, near air conditioners or windows exposed to direct sunlight. During periods when the relative humidity drops, we recommend using the products indoors, ideally in rooms equipped with a humidifier.
- Bending and twisting may be avoided by turning them upside down and leaving them like that for a day.
- To remove dirt, lightly wipe off with a soft, clean cloth. If the dirt is tough, wipe off with a cloth that is moistened with water or diluted neutral detergent and then is tightly wrung out. After that, wipe with a dry cloth to remove all detergent components and water droplets.
- This finish enables products to be used for a long period of time by applying beeswax periodically for maintenance. After applying beeswax, wipe it off completely. Residual beeswax could generate oil stains on clothes, documents, and books.
SHIPPING DUTIES AND TIME - In-stock products

*The price that is shown is the price excluding VAT. Therefore, you will have to pay VAT and import duty later. The tax amount, VAT rate, and duty rate vary from about 5% to 20%, depending on the country. 

 

Payment of duties

Import VAT, and other taxes associated with the importation of the purchased product will be communicated to you by the courier at customs clearance via email or on your registered telephone number. Depending on where you live, you may have to pay at the time of delivery to your address.

 

Estimated delivery time

All products are order-made and carefully processed, assembled, and finished by our craftsmen in Japan.

Regarding the tableware and small products, we ship the goods from japan within 7 days if we have stocks. If there is no available stock, we will accordingly inform you the lead time of the production.

For large quantities we will contact you.

For any further information, please contact us.
Choose options